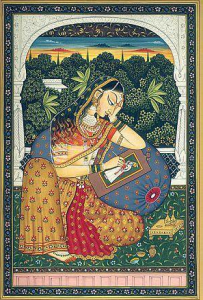 The other day I sent out a call for feedback for men everywhere (Stay tuned…). My request was for one sentence from anyone and everyone. Interesting that several women completely disregarded the "one sentence" rule and just went for it.
Here is one poignant example from my friend Niro who wrote to us men exquisitely. She came up with her own introduction to it. I have not edited a thing and have received her permission to post it. I was deeply inspired upon reading her note and feel as though it may serve you. Thank you Niro!
Notice yourself as you read this. Are you skeptical? Do you allow her words to penetrate you? Do you contract because of you are afraid to let her in? Does the spiritual tone sound too much for you? Or are you grateful for a woman that shares her vulnerability with you? What would it feel like for a woman to actually speak to you in this manner?

If you are a man hungry for more in intimacy and relationship, let this be a love letter beckoning you to show up and go deeper.
Painting My Lover: Men – Women – Me – You – Who?
by Niro

Crazy-ass long mad thing I suddenly found myself writing after I saw a posting by Jayson Gaddis of "Revolutionary Man" (What Is Your Constructive Feedback For MEN? – http://tinyurl.com/yh46lyj). This is waaaaay too long for what Jayson Gaddis is looking for. I mostly just found myself writing more about myself than men and so, this is just my note. And please know that this is MY letter. I am not speaking for other women. I am also not directing this at any one man. And sometimes I am guilty of what I complain about. I know it and am honest about it. Why did I really have all this gushing out of me? I have no idea. Maybe just because I am a woman. And sometimes, I just shamelessly gush.
————————–
————-Dear You, My Man,
You are Beloved. You are (more…)