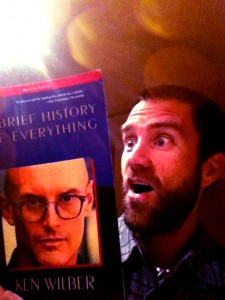 Note: After posting this on facebook, I got a huge number of responses from all side. One in particular stands out from my friend Nomali, included below the post.
—————–
I'm slowly warming up to Integral.  And, I never thought I'd see the day, but I'm getting involved in an Integral community.
WTF?
How could a guy like me who has judged the shit out of the "Integral people" be getting involved in Integral?
There is only one real reason.
Integral is getting relational.  At least in Boulder…
That's right. It's time to deal with the "Lower left" as they say in the integral world. Ken Wilber is supporting relational development. And, two men I dig and respect a ton are spearheading the project.
The Integralist (a person who studies and attempts to practice Integral theory) has often come across as very arrogant to me. Their mantra has been "transcend and include" yet it lands more like "transcend and exclude."
I have had three main complaints with the Integral camp.
Complaint number one: It ain't accessible

Integral is brilliant stuff. And, Ken's books are not accessible to the mainstream person. And, very few of his followers, if any, have bridged the gap to reach a mainstream person, let alone other highly evolved spiritual people. It's super high-level philosophy on consciousness, which is part of its detriment.
Integral isn't going to change the world if most of us can't access it. Buddhism made inroads and stuck in the West because teachers like Trungpa Rinpoche brought the core (more…)