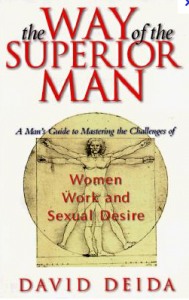 I often work with men (who are afraid of conflict) who misinterpret David Deida's teaching, from his book Way of the Superior Man, about standing there in the face of your woman's wrath.
Some men really think they are supposed to simply stand there like a mountain while their woman rages on them. Not exactly.
I doubt Deida means "take abusive behavior." His teaching doesn't mean you abandon yourself and look big and accepting, when just under the surface you are afraid. It doesn't mean you act "zen," allowing her to dominate you when she's acting out from her wound. Set a fucking boundary. Don't tolerate that shit. If she keeps doing it, leave.
But don't leave before you practice stepping up, holding your ground, pushing back, and honoring yourself.  Set boundaries with her and make your own self-love/self-respect a higher priority than pleasing her (It doesn't have to be masculine or feminine, just be yourself). Through you standing up for yourself, it's possible she might stop treating you like a punching bag and face her own shit.
The bottom line is that your woman wants to feel your strength and self-respect. Sometimes she's unconsciously testing you. You meet the challenge not by "acting masculine" but by respecting and honoring yourself.
You might also want to read The Straigtjacket of David Deida.