The 10 Mistakes Most Couples Make
Save yourself time on learning the hard way and find out the top mistakes most couples makes. You will also save time on:
Ongoing frustrations
Looping in the same fights
Piling up resentment
Common misunderstandings
Unrealistic expectations
Disconnection and pain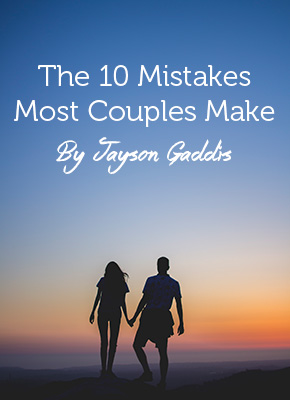 Are You Tired Of Learning The Hard Way?
Perhaps your relationship feels like an uphill battle at times.
So, if you want to do well at the long-term relationship game, it's important to know the most common pit falls, traps, and mistakes that couples make that destroy their relationship.
This way you can avoid ongoing frustration and be ahead of the game, mastering the dance of relationship.
Jayson is an incredible intuitive and gifted marriage coach. In our first session he was able to cut through all the "smoke and mirrors" and get right to what is holding both my husband and me back in having the marriage and life we dream of. Because of Jayson, we are committed to seeing this through and being the best we can be together rather than separate

Tara Powers


CEO Powers Resource Center
Jayson Gaddis's favorite thing to do is help people resolve conflict. He's spent over the past 2 decades in a variety of settings studying human behavior and why people struggle to understand each other. His own life has been full of endless failures and victories so he wants to save you time, money, and energy by learning about the common mistakes in marriage, so you can love bigger. He teaches virtual relationship empowerment classes to students around the globe.