"I help you take your relationship pain and turn it into love."
Jayson Gaddis — is a relationship expert and a breakthrough marriage coach. He's a householder, former psychotherapist, teacher, speaker, and writer who uses the vehicle of his marriage and his children to become who he truly is, while expanding his capacity to love. He's on the planet to help people master love and relationship. He's a husband and part-time stay-at-home Dad getting schooled by his two cosmic kids.
Jayson is passionate about masculinity. He runs ongoing men's groups, men's leadership experiences, founded the Men's Leadership Training, Boulder Men's Experience, and BoyStrong.org.  Jayson is looking to provide his 5- year old son a smooth, conscious path toward manhood.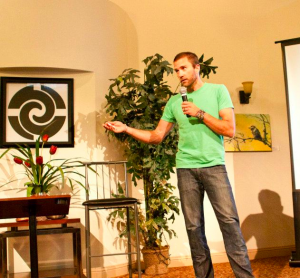 Even though many of his school teachers said he sucked at writing, he writes anyway for for The Good Men Project & Elephant Journal. He's also written for The Jungle Of Life, Primer Magazine, Integral Life, and Recovering Yogi.
Jayson's Personal story.
My "story" is relevant here because relationship was THE factor that got me to wake up out of the fog and the trance I was in to see a deeper path to my life.  And, relationship is what this website is about.
Relationship pain was the thorn in my side that had me seek out help. When my sixth or seventh relationship failed, I finally asked "what if I'm the problem?" It was relationship pain that cut through my habits and strategies and had me finally self reflect deeper than I ever had before. In that moment I was able to consider a new perspective—that my challenges pointed back to me. That moment was empowering because I began the transition from blame to responsibility.  Wait, if it was no longer "her fault" and instead something was going on in me, and if the source of my relationship issues was living in ME, well, I had some work to do and things to uncover and discover. The adventure had begun.
Jayson's credentials:
Founder, BoyStrong
Found, Boulder Men's Experience
Co-visionary of Beyond Gender & Healing the Gender Divide
Co-visionary of Community Practice Day
Visionary and host of the first ever Evolving Men's Conference
Blogger and writer for Integral Life, Primer Magazine, Elephant Journal, and The Good Men Project
Visionary and designer of the men's leadership training
MA in Counseling & Psychology (3 yr training) from Naropa University
Former Licensed Professional Counselor (LPC)
Certified Gestalt Therapist (3 yr training)
Completed year-long Trauma Training with Sensorimotor Psychotherapy Institute
Certified Meditation Instructor
EMDR level 1
Designed, visioned, and facilitated over 25 wilderness rites-of-passage trips for men
.
Current & Past Experience
Founder & Facilitator–Mens' Leadership Training
Private Relationship Coaching Practice since 2006
Founder, Revolutionary Man (now dissolved as of 2010)
Facilitator of Men's groups and co-creator of Men's Group 101
Facilitator Authentic Man Program Colorado and the RedPill weekend
Family Therapist, Monarch Center
Family Therapist, Longmont Mental Health Center
Crisis Worker, Emergency Psychiatric Services
Group Facilitator SOAR High School
Drug & Alcohol Instructor, Boulder Public Health
Lead Instructor and Founder, Innernature Wilderness Program
Lead Instructor, The Outward Bound School
Lead Instructor, Second Nature Wilderness Program
Teacher, The Waterford School
Leadership Consultant, Beta Theta Pi International Fraternity
Head Ski Coach, Snowbird Developmental Ski Team