"I help you take your relationship pain and turn it into love."
Jayson Gaddis — householder, former psychotherapist, teacher, speaker, writer, relationship specialist, & soul guide is using the vehicle of his marriage and his children to become who he truly is, while expanding his capacity to love. He's on the planet to help people master the soul lesson burning in their heart, through the vehicle of intimacy and relationship. He's a husband and part-time stay-at-home Dad getting schooled by his two cosmic kids.
Jayson is passionate about masculinity. He runs ongoing men's groups, men's leadership experiences, founded the Men's Leadership Training, Boulder Men's Experience, and BoyStrong.org.  Jayson is looking to provide his 5- year old son a smooth, conscious path toward manhood.
Even though many of his school teachers said he sucked at writing, he writes anyway for for The Good Men Project & Elephant Journal. He's also written for The Jungle Of Life, Primer Magazine, Integral Life, and Recovering Yogi.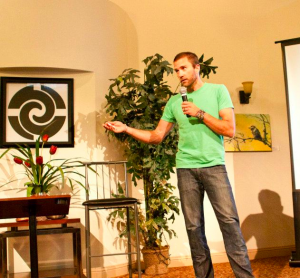 Jayson's Personal story.
I always felt out of place. I was a hyper sensitive little being as a child and sadly had to shut that part of myself down until adulthood. As a result of my sensitivity and curiosity about Life and people, I have been committed to personal growth and self-knowledge from a very young age. I moved from system to system, organization to organization, and relationship to relationship never satisfied, longing for something more.
Middle school was rough on me. I was bullied, rejected by elementary school friends, and struggled ongoing to find my tribe.
in high school, I was late bloomer and an awkward, funny kid. I was the last to hit puberty but somehow managed to find my clique. I was on the golf team, tennis team, and the snowbird ski team. I was very athletic, but had zero competition in me so I dropped all but skiing to make a ski movie with friends. I fell in love with many girls who never liked me back. I had no idea how to relate to girls or the feminine.
My freshman year in college out of state, I fell into a steady depression and found marijuana. I smoked pot nearly all day every day and almost failed out of school. My sophomore year I transfered schools and as I looked to belong somewhere, I joined a popular fraternity. Here I would drink nearly every day, smoke a lot of weed, and play the social game that won me friends and respect. I became president of my fraternity and after college moved to Ohio to work for their national organization as a leadership consultant. I began to learn about group facilitation and public speaking.
I found personal growth books and geeked out on Steven Covey, Koznes & Pozner & Scott Peck. I traveled to over 80 colleges and universities helping young college men live by the values of the organization. Yet, something was off, something was missing. Looking back, I now see the values of any fraternity as very conservative, supporting "appropriate" gender conditioning. Be a gentleman, be successful by doing x, y, z, and overall "be better" than you are. While amazing at the time, I eventually grew out of that box.
I went back to the wilderness, hitchhiking across Alaska and Central America to "find myself" only to discover wherever I went, there I was. I coached 4-10 year olds how to ski race in the winter and worked for Outward Bound and other wilderness therapy programs in the summer.
With the therapeutic wilderness programs I "arrived" at a new level of YESness. Finally I found people (teenagers!) that were being REAL. These kids had been through hell and were bearing their soul in the wilderness around a fire. Wow. This was my first doorway into psychology and I began to learn how to use my empathy and natural gift at helping others. I eventually found a job at a private school for rich white kids thinking I wanted to be a teacher. Yet, the kids kept coming to me with their problems and I could my ADD mind could hardly deal with lesson plans. I needed more skills to help these kids. It was here where I discovered that I wanted to be a counselor.
Meanwhile, I continued to have many failed short term relationships. After my seventh intimate relationship failed, I began to wonder if maybe I was the problem, since I was the one common denominator in all my previous relationships. Once I realized I was the main issue, my longing for more real, raw, genuine relationships now had a foothold and real change could occur.
Instead of changing women in my life (or other people) or wishing they were different, which was my previous approach, I had started to see that if I could "change the man in the mirror," then perhaps my relationships would change. This was a massive turning point on my spiritual journey.
I finally was ready for therapy. I was skeptical for the first 4 sessions and resisted as I "told my story" to a woman behind a clipboard. But it was the perfect warm up before I would get even more serious once I found Naropa University, and moved to Boulder Colorado. I went to Naropa primarily to study my own mind, spirit and body.  I also went there to study other people, knowing I would somehow help others for the rest of my life. As a kid, being empathic came easy to me, but I had no idea how to deal with this gift. I also didn't know how to deal with such strong feelings and emotions. I was a born helper, and finally I was learning some serious skills.
Once I moved to Boulder Colorado and started grad school, this is where my old self and old life started to unravel. I started a three year stint of regular and consistent group and individual psychotherapy (I found an amazing therapist after an intense search). I enrolled in a three-year Gestalt training and began to unpack and unlock a lifetime (and more) of stuck trauma, experience, memory, and conditioning. This was the beginning of a very, very long chrysalis, which is still going on today.
I slowly let go of all activities that were ego driven behaviors where I tried to get people to like me or get recognized. I began to let go of friendships that were not supportive of my inward journey. I started meditating daily and joined a Buddhist spiritual community. Most of my old friends and family thought I had joined a cult and wished I were the old, predictable me. It was a painful time. And, for the first time in my life I was seeing things with fresh eyes. I was "thawing out" from a lifetime of fog, haze, and low grade depression.
Meanwhile, I was learning how to be a healer and a psychotherapist. I was obsessed with the truth of suffering in the world and wanting to find more ways to help people heal and grow. Instead of "fixing problems." Instead healing meant a return to wholeness.
I got involved in "men's work." I joined a men's group, and really started asking what it meant to be a man in today's society and wrote my master's paper on how men are still boysand what can be done about it.  I was exploring and healing my own masculinity.
During this wild ride, I met my life partner and started to understand what a real, adult relationship was all about. A real relationship meant doing "the work" and burning through a lot of old habitual patterns and games. I broke up with her twice because I was unwilling to feel some serious pain in myself. Eventually, I dug deep and found the truth and courage to marry her. Our vows were about "waking up through relationship." The foundational principle of our marriage is about supporting each other's deepest growth through the vehicle of our committed relationship. And, we are engaged in Relationship Practice day in, day out, because to keep a marriage alive, that is what's required.
In 2009, we had our first child Lucian. Thus began another level of surrender and letting go. Our daughter Neva was born in 2010 and both kids are showing me aspects of love I have yet to experience. They are both amazing teachers for me. Parenting is my foundational practice in life and I very much see it as a spiritual path. I am committed to sharing my experience here in hopes that it may inspire you to fully receive the medicine your relationships and your children have for you.
Jayson's credentials:
Founder, Boulder Men's Experience
Co-visionary of Beyond Gender & Healing the Gender Divide
Co-visionary of Community Practice Day
Visionary and host of the first ever Evolving Men's Conference
Blogger and writer for Integral Life, Primer Magazine, Elephant Journal, and The Good Men Project
Visionary and designer of the men's leadership training
MA in Counseling & Psychology (3 yr training) from Naropa University
Former Licensed Professional Counselor (LPC)
Certified Gestalt Therapist (3 yr training)
Completed year-long Trauma Training with Sensorimotor Psychotherapy Institute
Certified Meditation Instructor
EMDR level 1
Designed, visioned, and facilitated over 25 wilderness rites-of-passage trips for men

.
Current & Past Experience
Founder & Facilitator–Mens' Leadership Training
Private Relationship Coaching Practice since 2006
Founder, Revolutionary Man (now dissolved as of 2010)
Facilitator of Men's groups and co-creator of Men's Group 101
Facilitator Authentic Man Program Colorado and the RedPill weekend
Family Therapist, Monarch Center
Family Therapist, Longmont Mental Health Center
Crisis Worker, Emergency Psychiatric Services
Group Facilitator SOAR High School
Drug & Alcohol Instructor, Boulder Public Health
Lead Instructor and Founder, Innernature Wilderness Program
Lead Instructor, The Outward Bound School
Lead Instructor, Second Nature Wilderness Program
Teacher, The Waterford School
Leadership Consultant, Beta Theta Pi International Fraternity
Head Ski Coach, Snowbird Developmental Ski Team