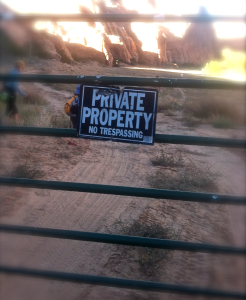 Much of my work helping folks live as mature adults in relationship involves boundaries. And here's a common one folks are challenged with. It's the difference between saying "can't" and "won't."
Let's say I'm being a complete jerk to you. I'm blaming you for my dissatisfaction in the relationship and when I get really triggered I call you mean names. Then let's say you're over it. You are finally fed up with me and my rude behavior. What do you say to me?
Try saying these two statements outloud to yourself and notice the difference.
I can't let you talk to me like this anymore.
I won't let you talk to me like this anymore.
They feel different right?
Won't is a boundary. It's my firm boundary with you. "I will not" is definitive. 'Will not' is a good practice to step into if your default comment is 'can't.'
When folks say 'I can't,' there's some wiggle room in there. Can't is a fuzzy boundary that invites people to test it. Also, 'can't' is often untrue. What is more true is, "I not able to." Or further decoded it could mean, "I continue to allow you talk to me like this because I'm uncomfortable taking care of myself and I don't know how to stand up for myself and respect myself in your presence. I say 'can't' because I'm not strong enough to say 'won't' yet. I'd rather keep abandoning myself because I'm afraid to lose you."
Whereas won't = solid. Firm. Complete. Finished. But do realize that to step into 'won't' you are going to have to love and respect yourself even more WHILE feeling a good amount of discomfort with the other person's reaction to your new boundary.