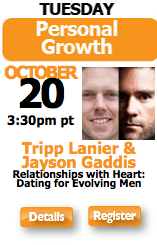 One of the biggest complaints men have at some point in their life involves relationships and women.  Finding "the one" can be a huge pain point for many men. Dating can be an arduous process for many men. Marriage can be strenuous. Long term commitments can be both profound and deadening.
So, what should you do about your dating and relationship challenges?
For starters sign up for my free teleseminar called Relationships with Heart: Dating for Evolving Men on October 20th at 430 PM MST.
I'm psyched once again to be teaching along side my good bro Tripp Lanier, host of the New Man Podcast. We have been invited to teach a teleseminar on dating and relationships with some big wigs in the personal development field.
You'll get to hear about my own relationship challenges and how I broke through them.
Maestro Conference is a unique platform so you will be in small groups talking to other men from around the world rather than just sit and be a passive listener. It's super interactive.
I'd recommend checking out their other presenters as well. They have some heavy hitters like Dan Milman, Deepak Chopra, T. Harv Ecker, Decker Cunov and so many other talented gurus. So many awesome calls–go check it out here.
To register for the free call click here.
If you are single, you'll also want to check out Gaia Soulmates and set up a profile there. Word on the street is that the women far out number the men, so get your profile up and running.