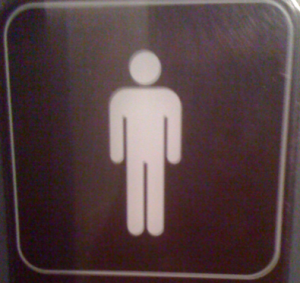 The question of what it is we miss most in the opposite sex is a poignant one, and let's face it – the opportunity to address it in the public realm doesn't come along very often. For men, messages from women about what they want more of have, in the last few decades at least, often been laced with the darker shades of feminism, delivered as complaints or demands or that "what you do is never enough" thing. We want you to be more civil. We want you to express your feelings more. We want you to be more attentive. We want you to be more like us.
I'm one of those old fashioned gals who wants men to be more like men. Unruly, lustful, primitive, bold – however he might come. It is challenging for a man in this day and age to remain intact; to not allow himself to be meddled with, while still retaining a good measure of integrity. I admire men who strive for this, because there are plenty of (well-meaning) women out there who are happily doing the meddling. It's all they know. We are all to some extent shaped by the culture we live in. The pressure on men to be more like women is so pervasive we don't even see it for what it is. And since it is human to want to belong; to be seen for the good person that you are, men tend to succumb – at least in public. So when I meet a man who can own his mistakes openly while never apologizing for who he is, I am impressed. While he is not exactly a dying breed, this is a balance that is hard to come by.
I adore men, and I adore all the ways they communicate that are not at all like a woman's. I enjoy their tribal instincts, their love of competition, and the way they bond with their buddies that I will never be a part of. These are things I would like to see more of, free of restraint or excuses. No more blaming women for your failure to exercise the liberties that are your birthright! Men need time with other men, because it gives them something they can never get from a woman. It's just the way that it is. We are entirely different breeds.
On a personal level, there are lots of things I hanker for. As a woman who has been single for quite some time, what I miss the most is that burly, unfaltering presence that does not shrink back from my fervent mood swings, whether it be anxiety, sexual desire or matters of the heart. I miss a man who can hold his own without taking on my emotional depth. A man with fortitude and patience, but who does things on his own terms, not mine. A spiritual man who values both the animal and the tender; who knows what it means to be both beastly and kind. A man who understands that being in control (something many men need) is not the same as controlling me. Hell, be the boss if you must – but try to oppress my spirit, and I'll end up leaving you in the end.
There's a scene in the movie A History of Violence where the main character, played by Viggo Mortensen, "takes" his wife on the stairs of their home, without her apparent (initial) consent. It is a powerful scene that blends anger with tenderness, desire with heart – raw and unrestrained. Contrast this with the sex portrayed in a series like Desperate Housewives – emasculated, polite, entirely dependent on a woman's approval. Unfortunately – and I say this for women as well as men – sex within the confines of domestic love has swung toward the latter. What I miss in men is unfettered passion and a loyalty to self; men who are sensitive to what I think and feel, but will never sell themselves out to gain my approval.
A man who is his own person.
Jesse Mendes is a writer, producer and blogger who is deeply committed to helping to change how older women are perceived in North America. She believes there is a sensuality and wisdom about them that younger women can only dream of, and a significant pool of men out there who "get" it. SeptemberMay, a dating site that celebrates the authentic older woman, will launch later this year.