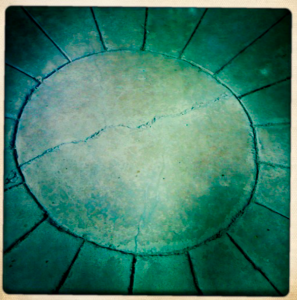 I am going through what I believe to be a spiritual emergency.
I have yet to write specifically about what I'm going through, mostly because I haven't really known what the hell is going on. Many of my friends and colleagues have been as bewildered as I am.
Then, a friend said, I think it's a spiritual emergency dude. I looked it up. It fits for now (Labeling my experience is a delicate matter).
Even more precise is the term "spiritual emergence" (longer duration).  So, I've been doing my homework. I am googling Spiritual emergency a lot, reading articles, case studies, and other tidbits on the subject.
Ahhhhh, I'm relaxing. I'm not alone.
I finally picked up a book that has been on my shelf for years (that I borrowed from someone else after grad school), "Spiritual Emergency: When personal Transformation becomes a crisis." Edited by Stan Grof and Christina Grof, both pioneers when it comes to consciousness studies and spiritual emergencies.
Early on, I felt very alone and pretty freaked out, even crazy at times. Now, seeing that this is a common experience among spiritual practitioners and everyday men and women, I am relaxing more.
Perhaps some of you have been through this or are going through something similar right now.
From what I've read, a spiritual emergency in Western culture is often seen as a mental illness, which is why no one talks about it while they are going through it. No one wants the label of psychotic or crazy person.
As a former psychotherapist for me to publicly talk about my breakdown would put my license in jeopardy. Yet, for the few of us who see a massive identity breakdown as a step toward wholeness, instead of illness, we can take the view that this is a natural stage toward genuine human health and expanded consciousness.
Why talk about it as it's happening?
I received an email recently that said "These things are best dealt with in closed circles and privacy." While that might be true for some, it's not for me. So given the given risks, why I'm talking about it publicly as it's happening?
1)   I want to tell the truth about my life openly and
2)   Because I think it will serve. Perhaps it can help you or someone you care deeply about feel less alone. I believe that by showing others my humanness in the moment, as opposed to "after the crisis" when I am all patched up looking good, it will be of more service. So far, the gains outweigh the risks (For example, I feel very supported on the live calls where I get real in the moment about what's going on).
What is a spiritual emergency?
Stan Grof has a nice description in this video away from medical pathology.
Given what I have read and in my own experience, it is a spiritual opening, or a series of several spiritual openings, wherein a person experiences reality more clearly as it really is, followed by a natural contraction away from the more "pleasant" feelings to more confusion, fear, depression, grief, and uncertainty, because his or her personality is not able to assimilate, or sustain, the new stream of light and energy.
It is an ego deconstruction process where certain identities and beliefs that worked most of my life are no longer working. It is a huge death and re-birth process. I find myself moving from one developmental stage of consciousness to the next, but I don't even know if I will make it through this transition period.
Roberto Assagioli (founder of psychosynthesis) brilliantly describes my experience in his article on "Self-realization and Psychological Disturbances,"
"The inflow of light and love is rhythmical, as is everything in the universe. After a while it diminishes or ceases, and the flood is followed by the ebb. The personality was infused and transformed, but this transformation is seldom either permanent or complete. More often a large portion of the personality elements involved revert to their earlier state."
This runs true with my own experience and my guide David Cates' teaching.  In other words, we expand, then contract, expand, then contract. Such is life–a pulse. For me, the contractions are the challenging part.
Because a spiritual emergency can happen to any of us who have jobs, families, and bills to pay, it can be incredibly disruptive because the ego personality needs to function in order to get basic tasks done. True for me.
According to Assagioli, this conflict is not inherently a problem unless the individual makes it one (which I have at times). This can lead to denial of one's experience, labeling oneself as crazy, and even a turning away from one's experience, all of which I have felt.
And, when I try to return to my old way of being because "this spiritual shit is too exhausting," I can't. Assagioli reports that the individual "cannot return to his old state; he has seen the vision, and its beauty and power to attract remain with him in spite of his efforts to suppress it."  Doah!
Just as Assagioli points out, I'm in the process of transmutation wherein I regenerate and transmute the personality. We'll see about that. J
He says it's a long process full of changes alternating between light and darkness, joy and suffering. Akin to a caterpillar becoming a butterfly yet with no "safe" cocoon.
Assagioli reports this transition can be challenging for the householder like me. "He must remain where he is in his life and continue to perform his family, professional, and social tasks as well as he can." Whew. At times, I feel as though I can barely do it, yet as a new Dad, there is no choice. Like it or not, I choose to show up even when I feel shattered.
Finally Assagioli gives many cautions to the person in my shoes, two of which resonate for me 1) that removing myself from my life would be a mistake and that by moving toward introversion, I might move into "self-obsession." And 2) That I continue to pursue my growth process with fervor but "without becoming identified with it." Yikes. I have done both at times.
On the one hand, while I'm a spiritual development geek, I want to run from what is currently happening to me. I've recently said things like "I'm so over this process, I want it to be done. I'm ready to throw in the towel for good." On the other hand, I am fascinated by what's happening to me.  If I'm not careful, it does become a self-obsession and I can get lost in my own "special little world."  I feel this with my 4-wing to my enneagram 3 personality type.
So, it is with renewed confidence today that I write this. Of course, if my experience is any guide, one hour from now could be another story entirely.
As my guide David Cates reminds me, my job is to be fully present and ride the waves with penetrating awareness.
Thank you to those of you who have supported me through this devastating and heart opening process. I am gaining even more confidence in the unknown.
I have a sense this will deepen the healing and coaching work I do for others.
What caused this whole thing? A combination of events. More on that later….
A prayer for myself? There are many these days, but here is one:
May I continue to be fiercely present and find the strength and courage to surrender and let go completely.
A prayer for you?
May those of us who yearn to merge with the divine or live in the vast space of greater and greater love, die to who we really are.