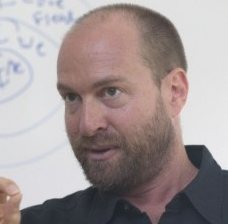 When I first got a copy of "Way of The Superior Man" I threw it down. "What kind of arrogant asshole would come up with a title like that?" I didn't even open it. It wasn't for another year that I would pick it up in my "david deida-format" men's group and then I drank in every word. I was ready.
A couple of years later, I signed up for one of David Deida's 5-day intensives and got rocked. Then, just last year, I buried the book. Finished. Done. No mas.
I work with men all the time who have read Deida and been served by the book and by his live events. Deida's a badass for sure. I believe he is solely responsible for bringing men out of the "new age wimp" mentality that was common in the 80's and 90's. He started making "men's work" sexy and compelling.
So, again, praise to the man and his work.  He kicks ass. His book is a must read, it is awesome for a certain stage on the path. His stuff is incredible. Deep bows.
And, at a certain point, men will have to transcend and include Deida.
The Deida-Bot
Time and time again I hear friends and clients who dig Deida (otherwise known as Deida-bots) get stuck in his words and concepts.  While I realize that is partly the consumer of his information's responsibility, it is also partly the black and white teachings around the masculine and feminine that keeps men trapped.
The basic interpretation of Way of the Superior Man goes like this:
Okay, so I have to find a purpose. If I don't know that I'm supposed to make that my purpose. If I breathe the right way and get in my masculine trustable power, then she will surrender to me. I am supposed to handle her shit storms even if they are abusive. And most importantly, "I'm supposed to fuck her open to God." Bottom line? I'm supposed to "act masculine" like David Deida says.
This typically takes a man into a pattern of trying harder to get masculinity right. If I don't do masculinity the way Deida says, I'm not a superior man and I'm probably going to remain at stage 1 or 2. I must not be man enough.
Some women have also become trapped. Their version goes something like this:
"Why won't he fuck me open to God?" I can't believe he isn't man enough to take me and ravish me.  I can't wait to surrender to him, but he just won't man up for the task. I'm not sure what's wrong with him? He's just too nice. I want him to fuck me and he wants to just talk about his feelings. I better show him I'm mad by screaming at him and challenging his manhood.
The shock and awe of Deida's live events are quite astounding. Men and women with their clothes on, coming to near orgasm and blowing each other's minds! It was insane for me, deeply powerful. And, it wasn't until months later in discussing the workshop with my wife, that I realized I had crossed some boundaries during the intensive. And, even through the workshop temporarily helped our relationship, had my wife been in the room, she would have been highly reactive seeing what I was doing with other women.
What I came to realize over a year after the workshop was over, is that the sexy shock and awe approach is not sustainable. Specifically, it's not sustainable in a long-term committed relationship.
Sadly, many tantra folks and sexually curious people begin to think what Deida teaches is the norm. Then, when they realize the approach is very challenging to stay with longer than a few months, they begin to think they are doing something wrong, not trying hard enough, and the self-doubt slowly creeps in.
I'm a spiritual dude and have done some serious work on myself. It ain't happening like Deida says for me in my life.  Very few of us have mind-blowing sex for years and years on end. We open. We close. We love, We shut down. We get turned on, we get turned off.
If we are all honest, sex is tricky terrain, particularly in long term relationships. It provokes our deepest wounds and also has the potential to allow us to feel the most cosmic connection on the planet. Factor in children, stress from work, long days, emotional triggers etc, and sex is a crucible.
The Double Bind
Without knowing it, Deida's work can put some men in a double bind. On the one hand, men are supposed to show up fully present and it is their responsibility to "open" their woman. On the other hand, if they decide to become real, truthful, and relax into "being" they face getting blamed wimpy, feminine, or called out (in their men's group or by their woman) for not being man enough.
Deida's work is a great eye-opener for a man new to what is possible sexually. Deida is much easier and more fun to read than anyone else writing on the subject thus far. For many of these men, it is a step in the right direction.
Nevertheless, pretty soon and innocently enough (in my experience) readers of Deida begin to "perform" to get the technique right. These men, believe, like I did, that if I just "do it right" she will surrender just like the book says. Some of these men don't have a spiritual practice nor do they want to start one. That would be more "work" a man has to do. For some men, it's just another self-improvement project that you must master to get the love and sexual intimacy you long for.
However, once you settle into a relationship for longer than a year, his words can dry up for some. The concepts begin to feel flat and simplistic. Paired with my actual, lived experience as a new father and husband, Deida comes up short.
I'm noticing the calcification that can happen around Deida and his teachings.  I've worked with a lot of Deida-bots in couples work and had to help them get more realistic.
Moving beyond Deida
But first I am doing triage on myself by working on an entirely different approach to sexuality. With the ongoing mentorship from David Cates of Deep Masculine, one of the trail blazers of conscious sexuality, I am learning a completely different approach to my sexuality.
According to Cates, many men can't help but get into the performance trap around sex. Cates' view is that once we plug into our own bodies from a relaxed place, we can experience sex as new, fresh, cosmic, and sustainable.
I imagine other men and women are adding to Deida's approach to sexuality. If you know them, please leave their info below. Sex is a labyrinth of possibilities. Finding the right guide can make the dance feel a whole lot more doable and sustainable.
Let's not be complacent about our sex lives, but let's also be realistic. Sex is yet another vehicle, a mirror, and a path to the love we long for.
What realistic steps are you taking to enhance and deepen your sex life?
Join my free web class for men here.
_________________________

[sc:ltalk]