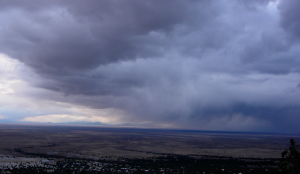 If your life slowly came crashing down and you began to lose your grip, how would you deal?
If the storm continued for months upon months, what would remain standing in the ashes?
For me, there are only 3 things left at this point:
1.     Family—my wife, son, and baby on the way.
2.     Community—friends, men's group, my guide, and others who unconditionally support my utter deconstruction
3.     My gift— the ability to heal and help others become who they are and become whole again.
That's about it.
And it's quite liberating really.
Now, I'm not suggesting the storm is over for me. Hardly. I think there's more dying to do, more to let go of, and more to surrender to.
While part of me wants to run for the hills to "finish the job," I am unwilling to abandon my wife and kids.  So the process is a slow burn for me.
I am a householder—a dude with one foot in the material world and one foot in the spiritual world.  Perhaps you are like me in this way.
So, while I continue to get my ass kicked by Life (re-frame is that I am getting loved ferociously by Life), I may as well do two things:
1.     Enjoy the ride and laugh at the cosmic joke of it all
2.     Give my deep gifts and serve.
Last night I dreamt I was with a scouting party high in the snowy mountains in the middle of the night. A man was scared of wolves. He "flushed" them out using a garden hoe. One got trapped in a snare of chains. I was angry. I moved close to the wolf. I spoke to the wolf, calming it, and breathing with it until it relaxed and trusted me. I slowly removed the shiney silver chains from its huge powerful body. The wolf was free again. End of dream.
Digesting this powerful message, I see that my true essence, my soul is the wolf. My ego wants to keep its power chained up, sequestered. But my being is emerging from the darkness and can no longer be contained. I have now have an inner ally to support my radiant, loving, power to run free again.
Progress!
My ability to stand in the face of great adversity, challenge, terror, conflict, tension, and profound love is only widening and deepening.
Perhaps I will meet you there.