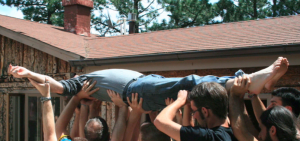 I feel scared to trust my life. I mean, really trust it–completely.
I was reminded last night in my bouts of grief that I came into this world, not trusting, not having faith. That was the core imprint. It's been the slow undercurrent of my experience to date.
When external stressors turn on, I feel gripped. I feel as though I need to manufacture security.
The tape goes like this: External security (i.e. finances being stable) equals trusting my life. If finances are unstable, so am I.
In other words, if my finances get resolved and I feel "secure", then I can finally trust. And, maybe that is true in some capacity.
However, I want it the other way around. Learn to trust, and know that I am already secure. Learn to trust deeply from the inside, no matter the external circumstances.
I know intellectually that my life is already trustworthy, but I often lack the deep experiential knowing of this.
I'm a 3 on the enneagram, so, with the lack of trust, I compensate  by achieving, accomplishing, doing. While that looks good on the outside, when it is coming from fear, it is exhausting, tiring, draining, and generally lacks fulfilling results.
I refuse to manifest in my life from that fear-based place.  Thankfully, t doesn't work anyway.
A few days ago, I was pretty locked up.  Shut down, depressed, foggy, flat. This flat place is much more painful than feeling any strong emotion. It feels like someone put a vice on my being and I have no range of motion. My head feels clouded. I lack energy. Some folks call this malaise a depression of sorts. It sure feels depressing.
Since I couldn't work through it on my own, I reached out and did my first public support call with my mentor.
That helped big time. There was a sweet opening.
But later I re-locked up, still distant from my wife, still irritable, needy, cranky.
I reached out to several bros and immediately got a friend on the line. He reminded me of what I tell him. "Go into the depression, the deadness, and be there, completely present, ride that wave."
I sat on my meditation cushion with laser awareness. Within minutes, the grief came. Waves of it, for over an hour.
The grief was deep. There is more. As is often the case while expressing my deep grief, I felt so alive. I felt held. Energy was moving again.
When I asked the Universe, "how can I know you will really hold me and be there for me through this?" The answer was an immediate "we already are."
I asked for a deep knowing in this with a prayer to experience absolute trust and faith in my life, that I am held and to know that in my bones.
May that also be so for you today.