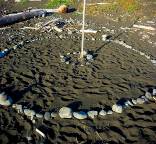 When did you become a man? How did you know? Have you ever had a declaring moment where you came through something hard and declared, "I'm a man now!?"
I didn't have this moment until I was 29 years old after a vision fast experience.
When you look around the world and take an honest assessment of your fellow man, what is your opinion? Do you think that most men are amazing leaders? Husbands? Dads? Do you believe men are being honest with themselves?
What if each man out there had a mentor? What if all men were connected to their purpose, their heart and their own inner authority? What if men went through an intense rite of passage somewhere in their late teens or early 20's that tested every cell in them, where perhaps they faced death and found their life's calling and became the man they are meant to be?

What is possible when men get really honest with themselves?
For the last ten years, I have been working to empower men to step up and into their greatness. Why? Because my own journey toward manhood was so confusing and caused so much harm to others.
The challenge men face today
Many men today are completely cut off from themselves, their heart and their compassion toward others. Many men have never received any true guidance about how to be a man, nor did they receive a formal initiation into what I call "conscious manhood."
This problem affects all men, no matter their race, religious point of view, or socio-economic status.
Sociologist Michael Kimmel suggest that many men between 16-26 are trapped in what he calls "guyland." It is a holding ground where young men can remain boys and never really grow up and when they need to, they can act like grown men.
My view is this: As a result of men not receiving formal initiation or training in manhood, these men stay stuck in guyland, where most of what they do is work a job with that is not fulfilling, become bystanders to their own life, and safely avoid the discomfort and truth of their own life. Here's a great article about Men growing up to be Boys that really nails the problem.
When you look around, you can find many examples of grown men who act like boys or make incredibly self-centered decisions and abuse their power on a regular basis. Or other men, who are just asleep to the possibilities in their life. It's like they are waiting for someone with more authority to tell them what to do.
Men are very confused and have an endless barrage of confusing messages about what it means to be a man and how to go about being one.  Read more about masculinity in mainstream cinema here.
Later in life, many of these men will experience heart disease, (the number 1 leading cause of death in men for the last many years in the United States), addictions, obesity, depression, divorce, and other chronic mental, emotional, and physical health problems.
As a result of no initiation and no guidance, men in this culture unconsciously seek out initiatory experiences that come from deep within their psyche. They "act out" by actively engaging in high-risk behaviors to meet this end, or they remain numb to their life. Look at gangs, sports culture, college fraternities, and cults.
I study men and work with men for a living. I watch countless men suffer unnecessarily.  It can be very difficult for men to "get real" and honest about where they are and where they want to be. With no formal initiation process when a man is young, and no mentorship, there is little guidance about where to go and what to do.
So, what would be possible if men were deeply connected to themselves and their own inner knowing? What if men had conscious male role models outside of movie stars, politicians and rock stars?
What kind of world might we live in?

The Solution for the today's man
If men actually followed their heart (their own inner wisdom) and were taught how to be more conscious, there would be less violence, greed, corruption and bloodshed among one another. How do men get in touch with their deeper nature and truth?
But how does a man get more in touch with himself and his own wisdom?
Three main ways:
Initiation into manhood
Mentorship
A Men's Circle
Initiation
Enter Joseph Campbell, a mythologist who did a renowned series of interviews with Bill Moyers on The Power of Myth. Campbell outlines what he calls "The hero's journey." George Lucas drew from this model when he made the Star Wars epic. The Lion King and the Matrix series were also modeled from the hero's journey. I run my wilderness trips and trainings based upon this classic model.
The hero's journey has three basic stages:  severance, initiation, and the return. Campbell asserts that in order to successfully move on to the next developmental stage in our life, we have to go through a rite of passage. Campbell also purports that the all hero's journeys have one thing in common—the ordeal.
The ordeal is something challenging we must face and on the other side is the reward that we must bring back to our community.  For thousands of years, tribal and indigenous cultures initiate young boys into manhood through formal rites and rituals.
The entire intiation process leads a man toward deeper and deeper self-knowledge, the key to fulfillment and realizing one's potential in life.
Let's look at the popular film The Matrix. In the Matrix, the main character Neo (Keanu Reeves) was just a computer geek who worked for a lame firm and hated his job. Without "the call" toward something else, he would have been like many men—shut down, unhappy, bitter about life and stuck on the hamster wheel at a job he hates, growing increasingly bitter and resentful toward others and life in general.
Watch this brilliant 3 minute clip about the Matrix and the Hero's Journey here with Christopher Vogler: (11 more detailed stages of the hero's journey are revealed in this incredible synopsis)
Ironically men love the movie the Matrix. Men also love other guy flicks with the hero's journey theme such as Star Wars, The Lord of the Rings, and Braveheart. Granted, these films tend to romanticize the hero's journey to a adolescent degree where the hero saves the day. In a true hero's journey, there's not always a happy Hollywood ending.
And if we look to indigenous and traditional cultures, a formal initiation into manhood (the hero's journey) is the one common thread in all of them. Within this, a boy must, and does, come face to face with himself, his mortality and his life's calling.
In being initiated, the boy will receive some kind of training or transmission from the elders of the community about how to be a man in their village or tribe. Not only is the elders' role pivotal, the separation from the mother is poignant and a necessary moment in a boy's life. It's not just left to father's, teachers or coaches in the community, where in this culture these men often fall short.
The boy leaves the safety of the protective womb, his mother and village, and must be tested by the wilderness and the men in the community. As long as humans have existed, boys have been cast into a ritual in order to become a man. It was not uncommon for some boys to die and never come back. Without these trials and rituals, men are less likely to access the unique gifts inside them.
Do men in our culture have this opportunity? How does this all fit into our modern situation? Is it really necessary to face death and go through such ordeals? If it is true that initiation is a necessary step along a man's journey, what happens if he does not receive an initiation?
It's no wonder why so many men push themselves with extreme sports, workaholism, and high risk behavior. This was true for me, before I went through a long arduous initiation process. I was constantly seeking, searching, and questioning everything. By occupying their life with "filler" (stuff that doesn't matter at the end of the day) me can safely avoid knowing who they are.
What about you? Are you hungry for a trial? How well do you know yourself? Do you feel the call to go through something incredibly demanding that will test every cell inside you? Are you longing to be initiated? To be pushed? Challenged to go through an ordeal that would give you direction, meaning, and understanding?
What could be possible if we start initiating men consciously through more formal rites and rituals? What kind of man would lead the way in corporations? How would men treat each other and women differently?

Mentorship
Read about mentorship here
Men's Circles
Read more about men's groups here and listen to the New Man Podcast for a fun conversation with Tripp Lanier and me about what a men's group is and how it might serve you. Click here to listen.
My mission then, is to serve it up to men everywhere, particularly men in their 20's and 30's as they are most ready and willing for mentorship and a rite of passage.
It's time to train each other to be conscious leaders, compassionate neighbors, and work through the lack of knowing oneself.
It's time to put men through some conscious ordeal and invite the best out of men, instead of instilling the worst.  Behind the ego of the confused or narcissistic "guyland man" lies a scared little boy, waiting for mentorship and guidance.

So, What should you do?
As yourself how you live.
What kind of role model are you to a younger man? Where are you still challenged in your life? What would be possible if I put myself through an ordeal of some kind? What would it be like to have a mentor like Morpheous in the Matrix, showing you a map and guiding you into making your own discoveries and when you veered too far out of your own integrity, you had a community of fierce older men that would sharply reign you back in toward your highest self?
What challenge and test are you ready for? What commitments can you make right now to become the conscious man that the world needs you to be right now?
This blog post is essentially my life's mission, to bring consciousness to manhood and show men how to live fuller, more authentic lives wherein they die knowing they have given their greatest gift.
Please do leave your comments below. Is this post true for you? What is it that you need to be the kind of man the world needs? When you look around, do you see grown men who basically act like boys? How committed are you to giving your greatest gift before you die?

[sc:lshut]