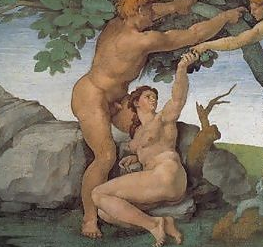 Every so often I work with someone who has been dramatically impacted by the tragic teachings of original sin.
After we do some coaching together, we uncover that they believe they are fundamentally bad, wrong, or unlovable.
How did this happen I wonder? Where in the hell did they get this kind of message? For the lucky few that had great parents and teachers, who planted this seed?
One answer—original sin and "the church."
Reginald A. Ray, the former head of the Religious Studies program at Naropa University and long-time Buddhist teacher told me once that in his 45 years experience teaching thousands of Western students meditation, he believed that original sin is responsible for why so many people have a negative view of themselves.
Of course it's not the only reason.
When we are little kids, we pretty much believe what the big people tell us. Hence, racisim, sexism, and various forms of fundamentalism and extremism. Parents, coaches, teachers, and organizations have a HUGE power and influence over what kids learn and digest.
Brainwashing a child is pretty easy. Any form of fundamentalism starts by brainwashing children.
If you are a parent, how is it possible to look at your new baby and think that he or she is bad, guilty, wrong, or sinful? As one of my Catholic clients recently said about his son after birth, "he was perfect!"
As a father, I couldn't agree more. Looking at my own son I was simply blown away at how pure he looked, felt and acted. His pure innocence and splendor. His eyes, face, little toes and hands were simply perfect. I felt deep love.
But if you yourself believe that you are fundamentally worthless, bad, or wrong at your core, it is no surprise that you will pass down that teaching to your children and children you work with.
Even still, how does any smart adult take the teaching of original sin seriously? If you test this and any spiritual or religious teaching against your own experience, what conclusions do you come to?
For example, if as a child you are taught that Hispanic (or fill in the blank) people are bad or less than you, you will simply take the adults word for it as truth. Even if your own experience suggests otherwise. As you get older however, in order to confirm your narrow belief system, you select only those experiences that match what you believe, thus concretizing your view and lodging racism into your psyche even further.
Are you really willing to come to your own conclusions or will you instead trust something even though it is in conflict with your direct experience?
The Good News
I've worked with hundreds and hundreds of people over the years and there is always the same theme. Once we begin to genuinely work on ourselves through coaching, men's work, psychotherapy, and spiritual practice, and we stick with it, we always uncover the truth in more or less two stages.
Stage 1. We discover that we have a whole series of limiting beliefs and insecurities that we have pushed down and kept hidden. We finally admit that we have some issues (welcome to being human) and we begin the "thawing out" process.
Stage 2. Realizing that our discovery in stage 1 is just a bunch of "old tapes" and messages that someone else gave us, we begin to see underneath these lies to a deeper truth—that we are fundamentally good and worthy of love. That's right, once we "do the work" we start to see and experience the truth of who we are. This is a big turning point in a person's life. Once you taste the raw freedom and magic of who you are, there's no turning back and you just want more.
So, try it on that you were not only born perfect but that you still are fundamentally good and perfect at your core. Beneath the mask you wear, the ego trips, and BS messages from "the big people," is a beautiful human being—trust me.
Tibetan Buddhist master Trungpa Rinpoche coined the term "basic goodness" to describe who we are at our essence. That beneath our 'cocoon' we are fundamentally good. To me this is true, no matter who you are.
Why? I have worked with criminals, perpetrators of domestic violence, drug addicts and severely mentally ill people who, when they let down their walls and defenses, are absolutely perfect and as just as worthy of love as anyone else.
Next Steps?
1. Test every teaching anyone gives you against your own experience.
2. Get to know yourself and see if it's really true
3. Burn the old tape that you are fundamentally bad or wrong at your core. Light that crap on fire and start challenging systems and people (including yourself) that keep that nonsense going.
4. Stop feeding the negative voice, and starting giving the quieter, more distant voice some food.
5. Remember your inner authority
6. Trust that you are basically good and perfect beneath the mask you wear. If you still don't believe it, ask people you love to tell you what they see.
7. If you continue to be unwilling to see the truth underneath the lies, hire someone to help you recover the deep love that you are.
Once you begin to believe that you are "good" and worthy of love and respect, you can re-orient toward the truth that is buried beneath the nonsense.
If someone you know and love actually believes the bullshit about original sin, challenge him or her by loving them and seeing their greatness.