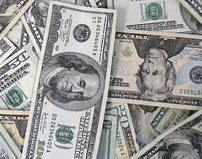 I can get real turned off by "money and success" stuff. In fact, it can be my least favorite topic. Notice how I haven't written about money EVER?
However, at the same time, money excites me. Why? Because it is a working edge for me.
In this video Success Teacher Tony Robbins explores why so many people don't follow through on their goals toward being successful and making money.
Before you watch the video I want to invite you to consider three questions:
Does having money determine your success and wealth?
What is your relationship to money and making money?
What has you not follow through in relationship to your money/success goals?
Because I have so many past negative associations surrounding money and because I have struggled with money issues for years, I am committed to working through any and all money issues.
So, until I get my money-life handled, I look to other teachers who have their money game dialed, to help me.
Does having money determine your success and wealth?
Depends on what kind of wealth we are talking about.

Inner Wealth
I have what I call tremendous "inner wealth" but I am not where I want to be yet with external wealth. Both are essential for me. Many men can master one but struggle living both.
Inner wealth is being "rich" with your own internal landscape. Being at peace with oneself from the inside. Call it self-love, inner contentment,  and believing and knowing that you are okay as you are.
Take inventory of your own inner wealth. Ask yourself the "you" questions in the life inventory from my previous post here.
External wealth
Many men tend to focus on external wealth. How you look, how you appear to others, how much money you can make, the cars you drive, the stuff you have, the house you bought etc.
Men who lack inner wealth will tend to compesate by obtaining outer wealth. They build a mountain of it to hide the insecurities and inadequacies that lie beneath.
What would be possible if you had both?
Money and Your Relationship To It

In my work with men, it becomes very obvious which men have money stuff handled and which men do not. For example, I recently finished my Men's Leadership Training and asked the men at the very end of the program to pay what they felt it was worth.
The responses and reactions varied widely. One man thought my fees and suggestions were "absurdly high." Another man felt they were too low.
What I am learning is that the more we can get clear about money, our own worth, what we are willing to pay for quality services etc, the more free we are and the more flow and ease we invite into our lives.
Ask yourself– Do I really need to investigate my money stuff?
For me, I want to engage with the money conversation and get it "handled." Why? So that it can support me doing my mission in life and allow me to spend time as much time with my son, wife, and friends, as possible.
What about you? What has you want or not want money? Do you want to keep up with the Joneses? Are you constantly comparing yourself to others? Or, do you push away money, judging those that have it, quietly resenting them and feeling self-righteous?
Either way, know WHAT and WHY you want to investigate.
Why Do I Not Follow Through?

From my perspective, there is no better time to engage in an honest conversation about money and what keeps you from obtaining it.
So, if you are interested in money and success, look to people you respect and money teachers.  I invite you to watch this 39 minute Tony Robbins video with two of the most successful internet marketers on the planet. One of these guys made $1,000,000 in one day online. WTF? (Watch the entire thing).
To me, more important than the money part of this conversation is the 4 step process Tony walks you through in order to achieve the success you want. He basically says two things:
Know the WHY that drives you.
Believe that you can make it happen and take action.
But, to really get it, watch Tony here. This is a must see if you have money and success blocks.
Again, I know the only thing at this point stopping me or getting in my way toward the success I want is my own limiting beliefs.
So try it on that you are the only person stopping you and consider making this commitment:
Commitment 7 – Finances
I commit to growing up financially. I will get my money shit together, which doesn't mean focusing on how much (or little) I make, but rather on diligently uncovering the entirety of my relationship with money. I will learn how to be in conscious relationship to money matters. I will know the relationship between inner wealth and material wealth.
Resources & Suggestions