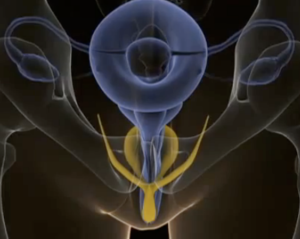 This is an excerpt from an amazingly informative post about the Internal Clitoris written by Ms. M and posted on the Museum of Sex blog. Reading it I felt sad, given how ignored the clitoris has been in Western medicine and research. This is an incredible discovery!! Why not focus a tremendous amount of study and research on whatever gives us human beings, specifically women, pleasure?
It's post-worthy because my site is about being ourselves. It's also about relationship. And our relationship to our bodies and our sexuality is critical if we are to understand each other more deeply.
I also have kids and want them way more informed about body parts and sexuality than I was growing up (Many of us know what happens when we don't teach kids about sex).
My friend Christiane Pelmas first turned me on to this discovery about the clitoris and now I found the article to read more. So, here's a few bits followed up with a link to the full article. And, be sure to watch the fun video at the bottom.
Consider this: In over five million years of human evolution, only one organ has come to exist for the sole purpose of providing pleasure – the clitoris.  It is not required for reproduction.  It doesn't have a urethra running through it like the penis, and thus, does not urinate.  Its sole function – its singular, wonderful purpose – is to make a woman feel good!!
Sadly, it is precisely because the clitoris has no function apart from female pleasure that science has neglected to study it as intricately as the penis.  In my last post I wrote about Princess Marie Boneparte and her revolutionary work on the female orgasm.  There was however, one piece of pertinent information she was lacking that science had not yet discovered: the true size and scope of the clitoris.
——
Alas it wasn't until as recent as 2009, French researchers Dr. Odile Buisson and Dr. Pierre Foldès gave the medical world it's first complete 3-D sonography of the stimulated clitoris.  They did this work for three years without any proper funding.  Thanks to them, we now understand how the erectile tissue of the clitoris engorges and surrounds the vagina – a complete breakthrough that explains how what we once considered to be a vaginal orgasm is actually an internal clitoral orgasm.