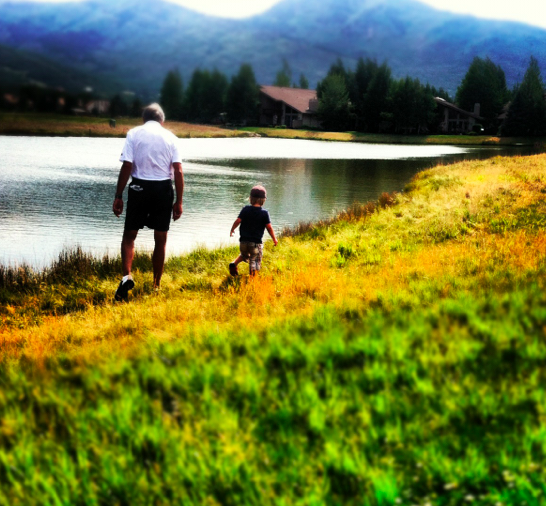 After eight months of gathering together, the leadership team of the Boulder Men's Experience (BME) decided to pick a theme for the BME-8: Elders. While the BME has been a deep and rich experience that has been able to serve a wide spectrum of men at various levels of development, we felt that one obvious thing had been missing—older men.
The one elder on our team, Tom Daly, was able to bring almost a dozen older men (men over 50 who consider themselves "elders") to the BME-8, our first night dedicated to a dialogue between the generations. Our oldest man was 83, the youngest 14.
Our primary intent was to explore what is in the way between the generations. How come older men are not attending an outstanding regular men's gathering? Why are young men upset with their elders? Are the elders, in turn, upset with the younger generation? What needs to happen to heal the divide? To prime the pump I posted an article on my blog entitled "A call to my elders, WTF?" which I'd written from my voice both past and present.
As with the BME as a whole, we approached the night as an experiment, eager to learn and then refine our approach for future events. During most potent part of the dialogue, we had elders on one side of the room and younger men on the other side facing each other. Each man was invited to stand wherever he wanted to as well as to switch roles to "try on" the other generation's perspective. We took turns speaking statements to each other, followed by a round of questions to each other. We closed with offering appreciations and blessings to each other.
Here are my takeaways (if you were there, please include yours below):
I am more of an elder than a younger person. Yikes. This was a bit shocking to me and felt true. I played with both sides all night and the resounding feeling in my heart was that of an elder.
This could be very confronting for some because no one has technically initiated me into elderhood and knighted me or anything. It's just a feeling in my heart and ironically I've received many outside reflections as of late that support a movement in this direction.  I'm not stating that I am now an elder. However, I'm trying it on and seeing what the Universe reflects back to me.
Older men attended the BME after "one of their own" rallied them. Perhaps this isn't surprising. I imagine older men don't relate to facebook or internet marketing as much as my generation does so it's quite possible they haven't attended the BME previously because they didn't really get what it was or know about it clearly. Perhaps they didn't feel welcome or appreciated. Any elder care to take a guess about this? Comment below…
Older men tend to give advice instead of sharing impact or being curious. This was not surprising to me, as it's often my experience that the generation before me tends to give advice when someone is expressing pain. One example happened in the first 10 minutes of our gathering when Josh asked a gray haired man how he was impacted by a younger man's vulnerable share, the older man not only didn't share how he was impacted, he went on to give this younger man advice.
Younger men had a lot of burning questions for the older men and the older men had less burning questions for younger men (in my experience).
There is a lot of anger and hurt between the generations and it's necessary and relevant to name this dynamic and express it unfiltered. This was a critical moment in the evening. The leadership team believed that in order for the generations to move forward as a collaborative team, it was very important for each side to express truth to each other openly. We wanted to name our withholds, to speak whatever pain was there, and to "lance the boil" (as Josh says), in order for a new possibility of relationship to be available. We didn't want to play nice or respectful on top of a lot of pain, hurt, or resentment.
For example, younger men specifically had a lot of anger and blame directed toward older men. Much of this felt like us younger men playing out our father wound. "Where were you when…" or "you never…" I know for me personally, I have played out my "dad stuff" with older men for years upon years (see below). It appeared that many of the older men feel frustrated by this dynamic and are left feeling unseen and unappreciated.
Younger men are playing out their unresolved father wound with older men. Coincidentally over the past six months, I have been doing major healing work around my own father. For years, I was so angry, hurt and alone. Then, one week prior to this BME, I was finally able to "listen" to him and hear about his childhood and his own father. I wasn't really interested before that. Then, one week later I found myself in a room full of "older" men who I could easily project my dad stuff onto and instead of being pissed, I was genuinely interested. I was happy, psyched, grateful. I identified with them even more. I felt a sense of peace and ease, like there was nothing to fight anymore.
One of my favorite questions from the elders to the younger men was "Can you be the father you wished you'd had?" A younger father replied "I already am and that it is my greatest accomplishment of my life so far." As this man spoke it, I felt my whole body relax with ease as I realized that it was true for me too. Wow.
Overall, the elder BME was amazing for me. I felt such deep appreciation for both sides. It's clear that many of us there are passionate about healing the divide between the generations. We want more. I pray that we create this opportunity again and again, so that we all may feel more connected and loved.