Here are a few new books on the shelves that might be of interest.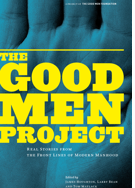 The Good Men Project
Tom Matlock has opened the conversation about manhood and being a good man. His book is on a national tour right now along with accompanying documentary.  Watch this short trailer and you will get a sense of the book and project. Proceeds from book sales go to at-risk boys programs. Very cool.
10.27.2009 – (Boston, MA) – What does it mean to be a "good man?" Hear some answers as The Good Men Project kicks off its first series of events and begins a national conversation about modern manhood. The Project's centerpieces are The Good Men Project: Real Stories from the Front Lines of Modern Manhood anthology of essays and the documentary film of the same name. The book is now available at Amazon.com and at select independent bookstores with DVDs of the film available on November 15. The Project's founders, along with contributors to the book and film, will embark on a unique seven-week, three-city tour that will take them from a prison in New York to a TV and film studio in Hollywood. Along the way, they will tell their stories, answer questions, and foster a timely and essential discussion about what it means to be a good man.
Become a fan of the Good Man Project on Facebook here. Or buy the book Good Men Project.
Hold On To Your Nuts!

Next there's a great book by Wayne Levine called "Hold on To Your Nuts" The relationship manual for men. Wayne's a great guy and very committed to men's work and helping men be their best. Wayne runs the West Coast Men's Center and leads men's retreats.
The Art Of Manliness
Then, there's a more conventional guidebook by the popular men's site http://ArtOfManliness.com
The Art Of Manliness has also just released their new book:
The Art of manliness, Classic Skills and Manners for the Modern Man. Here's a short video of Bretty McKay announcing the book!
Become a fan of Art of manliness on facebook here.
Manhood For Amateurs
And then there's a book of one man's journey with manhood. Manhood for Amateurs: The Pleasures and Regrets of a Husband, Father and Son by Michael Chabon. This one sounds like it might be juicy.
There have been no shortage of books on motherhood, but daddy diaries are a growing phenomenon. Chabon raises the bar with his often poignant meditations on manhood, fatherhood and aspects of his own childhood. Most of these loosely connected essays, which add up to an episodic autobiography of sorts, first appeared in Details magazine. In addition to the gorgeous prose for which he is celebrated, several lovely qualities shine through.
He emerges from these 39 beautifully written personal essays as a prince among men. Not only does he produce dazzling novels that have given genre fiction literary cachet — including The Yiddish Policemen's Union (2007) and his Pulitzer Prize-winning Amazing Adventures of Kavalier & Clay (2001) — he also cooks, cleans, markets and gets his children to their appointments — and counts himself fortunate to be in a position to do so. Read The rest here.
What other current books do you recommend? No books that are over 5 years old please.