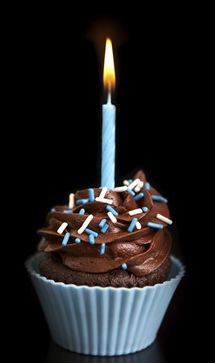 Today, December 1, 2009, I am celebrating Revolutionary Man's birth! It was officially born last year at this time when I launched the website. Tonight I will toast some champagne with my men's group of 6 years. Feel free to join me in celebration.
I wanted to thank all of you readers for your ongoing support, feedback, comments, wisdom, and insight into making this blog and my mission more clear, effective, meaningful and relevant to today's man.
I remember how much fear I had when the first incarnation of this site went up! Yikes! It took me a few months to find my genuine voice and groove as a blogger.
One year later I feel great about what I'm delivering here. Remember this website and every post on it is an offering to you and your full potential.
So, today I raise a glass to you, your truth, and the courage it takes to be fearlessly yourself in this confusing world.
How are you different one year later? How has this blog impacted you? What will the next year hold for you?
If we view birth as a metaphor, then this whole process is one of ongoing transformation and evolution. May I continue to get out of the way and allow my ancestors to speak through me. May this site and the vision of Revolutionary Man continue to unfold and open and be born into the next incarnation of what it is meant to become.
My aspiration is for this site to be the largest and most respected men's personal development blog on the planet. Please spread the word to other men by forwarding posts you think might serve them.
Stay tuned for some big stuff coming in Revolutionary Man's second year!
Respectfully,
Jayson