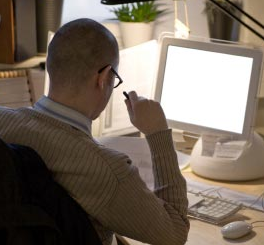 Porn isn't good or bad. It's not the big bad wolf. It's simply the shadow of a culture that is sexually repressed and over-sexualized simultaneously.
Because of this, I think it's important to look at the cost of porn on boys and men.
Porn is slowly retraining the male brain further and further away from the authentic sexuality born in each of us. If porn were embodied, present, heart-felt, and sincere, it would have the potential to heal millions. Instead, it's taking men out of their center, making billions of dollars off of their suffering, and rewriting what sexuality is and how to do it.
The pro-porn argument lacks any valid weight, "Hey man, nothing's wrong with masturbating to hot women, what's your problem?" Right.
I have nothing against sexuality, masturbation, or sexual aliveness. But porn has co-opted our sexuality and is now dictating the rules of how men and women are supposed to be with each other intimately. And, if I'm not paying attention, porn will teach my son an incredibly narrow form of sexuality.
In my own life, porn was a big distraction. A distraction away from my feelings, my body, and my experience. Along with other "checking out" behaviors, it served to relieve me temporarily from my suffering. Quickly, shame and guilt would settle in, as would more behaviors to hide it all. I was never an "addict." I never paid for sites or spent hours online. I would get in, get out, then hide. Even still, it felt like shit.
It wasn't until I was able to talk openly with my male friends about it, that I began to gain some power, control, and choice around the matter.  Through my connections to my male friends, the shame virtually went away and we discovered that nearly 100% of the time, we surfed to avoid something, typically discomfort, pain, or unwanted feelings.
The cost? It took me away from the very thing I wanted — intimacy with Self and other. And that's what I'd argue it's doing to the male psyche.
I see male clients who eventually get to their "porn issue" which they have often underestimated as having any impact on their life. Surfing porn in guy culture is very common which is its main justifying argument as to why a man can keep giving himself permission to use. "Hey honey, all guys do it, it's biology, it's normal."
But sooner or later a man will begin to feel the internal or external cost of his porn behavior. It might start out with a lowered sex drive for his partner or wife. Some men will begin to experience some kind of sexual dysfunction such as premature ejaculation, delayed ejaculation, or erectile dysfunction. For other men, it furthers their sense of isolation and moves them further from what they claim they want—more love. For others still, it destroys their marriage and leaves them feeling even more alone. Porn use can have some women feeling pissed, alone and longing for a real man to show up.
One of my former clients shares that he has a really hard time connecting with his real girlfriend's real body. Another man shares that sex feels dirty, wet, sweaty, and the parts don't look the same as the videos. He reminds me that actors on a screen have trained him, over and over. So when the real thing comes along, he is challenged. Another guy struggles to get hard and stay hard. His partner is feeling the impact and wondering how to navigate it all. One man prefers the online stuff because the "real thing" is too complicated. Still another man hides his porn use from his wife because it might be a deal breaker.
What is your experience? Comment below please.
Outside my personal opinion and experience is growing research that suggests more porn = more men suffering.  Here are several examples:
*According to Psychology Today, it's a growing problem for men and their rates of sexual dysfunction are increasing.
*According to this amazing site: http://yourbrainonporn.com/ there is significant impact on the brain and how men train their brain through porn (This site is AMAZING and full of solid resources).
*If you don't want to spend a ton of time on the above site, the site's author Gary Wilson wrote a good piece for The Good Men Project's called: How Porn Can Ruin Your Sex Life and Your Marriage.
*Here's a good one from Naomi Wolf summing up some of the research on how porn is impacting the male brain called Is Porn Driving Men Crazy?
*Here's a scary one about the developing adolescent brain. So vulnerable to addiction and heavy porn use. The cost of porn on the adolescent brain.
*Then there's an interesting project called the Social Cost of Pornography where a group collaborates to publish what looks like a solid book on the subject. http://www.socialcostsofpornography.org
*I found this great article in the Washington Post called The Cost of Growing Up on Porn. The author even finds "research" suggesting that contrary to popular belief, porn isn't hurting men at all.  He debunks it and reminds us that porn is indeed hurting a lot of us.
*And lastly, since parents (specifically Dads) are or unable or unwilling to educate their sons, most teen boys are learning about sex through porn. The average age boys are exposed to hard core porn is 11. Many get exposed at 8. Once again, we can find the roots of this growing problem in the good 'ol boy code and bro code. It's no surprise then that when we don't teach boys about sex, they'll learn about it somewhere else.
So, could porn really be killing the male sex drive? For some men, yup. Does Porn have the potential to leave embodied women starving for men who can relate to their real bodies in real time? Probably. Is porn training men to be less and less available lovers? Most likely.
When men are in pain, disconnected from their bodies, and stressed out in their lives, porn offers instant, easy, ongoing relief. Porn is also one of the most accessible, seductive distractions to take a man out of his center. Men and adolescent boys who have rarely 'worked on themselves' hardly stand a chance against porn. With few effective tools to engage this fight, a man will often loose. What will he loose? His center, which is the core of his integrity. Shame will fill the void. He will be run by shame and instead of owning it, will posture over it like Beowulf until he chooses to face it.
What is the cost to women? To our children? What happens when we let a money making machine teach us about the most sacred and beautiful part of who we are?
Finally, now that we can begin to see the problem, how will we each address it in our own bodies, homes, and communities?
For men who struggle with porn and are willing to do something about it, I have three simple, but unconventional recommendations amid the hundreds of options out there. I understand this is a very complicated issue and healing this will be different for every man.
To start off, Your Brain on Porn offers what appears to be an awesome "rebooting" program to help men wean themselves off porn and begin the journey. But this is only the start. A man must be willing and committed to getting his center back. Like Beowulf, he must choose to slay the dragon he co-created.
Connection to Self. In order to get back in his integrity, he will have to occupy his body and learn the way of embodiment. When men are in their bodies and connected to themselves, their heart, and anchored in their center, porn doesn't stand a chance. Stay tuned for a tele series with me and David Cates as we expand further upon this and offer practices to support.
Relationship. When we prefer intimacy on a screen over real human touch, we have certainly gone astray, but given our tech culture and our conditioning, it's understandable. I'm with Gabor Mate in seeing addiction as a relationship issue, not a biological one. The way out of porn use then, is through relationship. This can mean groups, therapy, attachment work, etc. Bottom line? Very intimate, sensory, real, raw relationships with other real human beings is the way out.
Be sure to watch this 16 minute video that summarizes why porn is so compelling for men. It also shares some of the cost:
Lastly, check out these super helpful mp3's if you want a different relationship to porn.
[sc:ltalk]