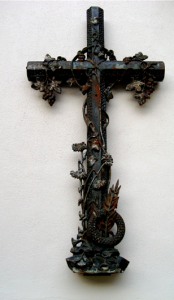 It's understandable why the vast majority of the world's population is involved in some form of organized religion. People are lost and confused. They are taught and trained to distrust their own experience so they look for answers outside themselves. Religion gives them hope and answers to life's riddles in the face of the great unknown. However, this approach is incredibly limited at best and serves to take a person further away from their own inner knowing and guidance. It also supports moving away from truth and into magical thinking and fantasy.
Religion has become fixed, even when it claims it is not. The forms, the talks, the teachings have calcified. When this happens, religion is no longer in alignment with the nature of reality. This lack of congruency is where religion's limiting ways begin.
If we need someone else to tell us what's true, religion can be very helpful. And, for many of us, this is an important life stage. However, if we want to grow and become who we really are, than we will inevitably bump up against the foundational law of nature–evolution (i.e. growth/change/development). When we surrender to to our evolving nature,  traditional religion becomes obsolete.
When I "get on board" with what is true, based on my immediate experience, I get in touch with some of the foundational teachings of most great religions.  Now I am practicing genuine spirituality. A genuine spiritual path is about connecting me to the truth of what is, to the great mystery, and to the pure flawlessness of my own brilliant nature.