When I saw Beowulf I was struck by how much it relates to my life. I'm guessing there's a lot of men out there just like Beowulf. **Note: I do give away the story here so be forewarned. And, lots of conjecture here.
The old English poem has many interpretations. I'm choosing to focus on the 2007 Hollywood version (which is distinctly different from the original story and well worth the watch) since it's the only one I have seen. I'm also choosing to laser in on how it personally relates to my life in hopes that it may serve yours.
In watching the movie, one pertinent question emerged:
How can I hold true to my integrity and maintain my powercenter* in the face of all the seductions, challenges, and distractions in life?
(*by "powercenter" I mean the lower dantian. Marital artists know this as the center of gravity in our bodies and critical to holding one's ground during conflict, combat, etc. I'm no martial artist, but I do apply it to the rest of my life).
The Hollywood Beowulf tale is about a powerful warrior who can kill any beast with his bare hands, but then caves in the face of a dark feminine "monster."
In order for this (dark) feminine to give birth to a dragon, she needs the seed of a warrior willing to betray himself (dark masculine), which is precisely what Beowulf does. She uses him, he uses her. They make each other stronger (by ego standards) by working together.  Then in his misery and to gain some self-respect back, he has to slay the dragon he birthed.
My interpretation of this particular Beowulf tale is about how tempting it is to betray myself in the face of the seductive energies in life. These "seductive" energies are whatever could "take me out" of my center and out of my integrity.
When given the opportunity, it appears that a lot of us men will abandon ourselves (and our center) for the promise of getting something "better" or feeling "better." Or, we might get hooked by the desire for an 'instant gratification quick-hit' which serves us in avoiding the deeper work that might be called for. Or when I'm not able or willing to tolerate the discomfort (charge) in the face of adversity, I buckle and give away my life force.
For example, when we need to get shit done in life and focus, we face a variety of "seductive" energies (from porn, to sports, to napping, to facebook) that also seduce our attention away from the task at hand. For an ADD-mind like mine, it can be challenging to stay on target.
When Beowulf takes his eye off the ball by sleeping with Angelina Jolie, he gains his perceived power and his ego's appetite gets temporarily satisfied. He has all the riches he wants, he becomes a powerful leader with lots of willing followers, and he can have any woman he desires. But none of it is any remedy for the shame he feels having betrayed his own integrity by giving his power away.  Then he chooses to lie in order to face his comrades, thus feeling like shit.
Of course, like many of us who feel ashamed, he chooses to keep it a secret for the rest of his life, and so others don't really know that he is inwardly lost and ghost-like having lost his self-respect. Thus the hero remains sick inside, dead, empty, lost. Why? Perhaps because he doesn't even respect himself.
And, this is how it is when we take the easy road of distraction. It feels good now then bites us in the ass later.
A classic example is an affair, or an affair with porn. Men will keep it a secret thus giving their shame added strength and credibility. On top of hidden shame, these men will discharge their "seed" regularly, thus giving away their life force over and over. And the cycle continues. Yet temporary "quick hits" are no match for the results that come from deeper rigor and work.
This is what happens when a man is unable or unwilling to hold true to himself, his body, and his integrity. He lets just about anything invade his space that "feels good" and that gives him respite from any discomfort (intense charge) he may feel in his life.  I imagine most of us can find ourselves relating to Beowulf in some aspect of our lives.
Think about it. It's pretty hard to maintain our powercenter in this fast-paced culture with endless distractions coming at us all day long.  And, when I don't occupy my center, I'm vulnerable to "checking out" behaviors that distract me from staying "on target" and "in my center" in life.
Now you might be thinking this sounds overly rigid or righteous. Maybe. But the issue for me here is not that Beowulf drops the ball. It's that he A) hides after having done so and B) doesn't implement any discipline practices to make himself stronger.
I drop the ball all the time. It's when I hide that I give my shame power. When I reveal myself and show my humanness openly with others, I don't carry the burden of shame around.  I can make my mistake, take responsibility for it, and get back on target.
Yet knowing I drop the ball a lot, I also put in to place practices that support me getting strong in myself over time.
Beowulf even tried to "fess up" to his human ways to his closest comrade only to have his most loyal, trusted friend deflect and dismiss his vulnerability, which men often do to each other. What if instead, our closest friends said, "That sucks. Yes, I am here to listen and I can handle anything that you bring, mistakes and all.  Now, get back in the game. You got this. I believe in you."
Bottom line?
I am leaving my powercenter when I choose not to own the serpent between my legs. When I can't hold the charge in my body, I leak it out and even spill it out. My serpent, after blowing its load, becomes a vacuum "available" for other stuff to come in and occupy it. Then, depending on how great my numbness, dissociation, shame or guilt is, I will continually struggle in the face of not taking responsibility for my occupying my own body. Numb becomes the new norm.
Yes, I will not be perfect and I will lose my center and betray my own integrity. It's how I handle these human fumbles where my growth will occur.  And, if I stay in touch with my longing and hunger for more depth, truth, and power, I will slowly, over time, wake up out of my lazy, complacent ways.
This is of course easier when every single thing in my life matters to me. If I am living a life where I hate my job or feel dead in my relationship, I'm toast. If, on the other hand, I care deeply about each thing I do and every hour of the day and how I spend it, over time I will tolerate less fluff, filler, or distraction.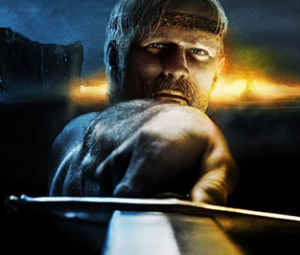 6 steps to remedy the Beowulf fumble
Choose to own my space (occupy my body) instead of caving in to whatever feels good.
Get a tribe of men together that have my back and won't let me continue  to hit the snooze button in life.
Learn the art of deep discipline. Strangely, discipline supports surrender.
When I do fall down, because I will, learn how to be open about my humanity. Share my vulnerability, shame, embarrassment, and mistakes with others so I can be seen and practice knowing that I am still worthy of love and respect.
Get back on the horse and back in my body.
Repeat.