It's been a wild ride recently. Ups and downs.
Major self doubt in one moment and ball busting confidence in the next.
As readers of my blog know, my summer was basically a spiritual rite of passage. The old Me dying, the new Me being born. Thank God I had and have support. The new Me is still learning how to create from a place of ease and relaxation.
After the major waves of my spiritual transformation had mostly settled by early August, I came out swinging and had big plans for myself. Things were falling into place and I felt on fire.
I even felt so bold as to write a blog post called "Jayson's fall Schedule." Silly me.
This is a common pattern for me. I go after what I want. I'm a "3" on the enneagram so I can pretty much force things even if the Universe is telling me to slow down, or be patient.
You see, there's three ways to do life—1) what I want to see happen, 2) what wants to happen, and 3) co-creation.
What I want to see happen
Largely a masculine quality, this is my self-importance—thinking that I am in charge and I can do whatever I want. You know, build it and they will come. In it's most neurotic form this is the realm of the masculine ego—conquer, predatory corporate capitalism, power over, attack, and penetrate without permission.
In it's wisdom aspect, the masculine can "cut through" the noise, protect, take divine action, and plant the seed of life.
What wants to happen
Largely a feminine quality is what wants to happen. In its neurotic form it might sound like "I just trust the Universe man" or "Hey man, it's not up to me anyway…" While I have often said this, blind faith can be used as another dodge of adult responsibility. Spiritually aware dudes using "faith" as a way to avoid pain, and stepping up in life. As my mentor pointed out, taken too far, this is the magical thinking of a boy.
In its wisdom aspect, opening to what wants to happen, what wants to grow life (including things dying first), and knowing deeply the timing of things, is the receptivity necessary to really receive love and life.
Co-creation
The way of co-creation is new, fertile soil for me. It's a combo of what I want and what is wanted, the middle way. It is the yin yang symbol of the Tao.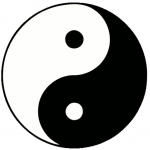 Since I have an overly developed masculine and an underdeveloped feminine, the big secret for me is tapping into my inner feminine—receptivity, space, deep listening, deep presence, "feeling into," and relaxation. Then, using my penetrating masculine quality to cut through, act, and lead.
It's not that one necessarily comes before the other. They are both at play and it's the balance of the two that give birth. The more I am deeply listening to both, the easier life feels to me.
How often have you complained of feeling "out of balance" in your life? Chances are you are too heavy on the masculine or the feminine.
If I am pushing too much because of what I think should happen, it starts to feel like too much work and effort (i.e. out of balance). And, if I provide too much space, I might miss the opportunity to act.
When I run men's groups, the magical co-creation is the space I'm operating in.  When I "created" my son, I had to "co-create" with my wife, a sperm AND an egg was necessary for him to come into being. Life emerges from the co-creation of masculine and feminine!
When giving birth to new creations in our own life, we can co-create with others, or we can co-create with Life. For me balancing of my inner masculine and feminine is producing more enjoyable results.
So, back to my self-importance…
I thought that I was going to be running all of these workshops and live events this fall because that is what I wanted.  I even thought that was what was wanted.
However, it appears to me, through very straightforward information, that I am supposed to put my attention and focus on this new masculine paradigm stuff by speaking boldly at this men's conference in Atlanta, and by pulling off the first Evolving Men's Conference. Then, on the side, do some work around sexuality and money through the lens of the new masculine paradigm.
Bottom line for me?
It's back to my inner feminine– tuning into and listening while staying fiercely present, ready to act, and act from a place of ease and relaxation.  Remembering not to rush anything.  And the more I work with my own sexual energy and the forces inside of me and outside of me, the more I find the current, the flow, and balance in general. (hint–this is the crux of the new masculine paradigm emerging. Stay tuned for more…)
What about you?